Best Head Lice Treatment Centers in Tampa
It is easy to get upset when you find out that your child has head lice, and the thought of these tiny critters can lead to rushed decisions, such as visiting a head lice treatment center in Tampa. While there is no need to panic, there is a need to act quickly. Fortunately, there are a lot of options available when it comes to head lice treatment, and you can choose from a range of remedies, including natural methods.
---
Lice Doctors
Number: 813-438-2323
Address: In Home Service
Website: licedoctors.com
Description: Simply call or schedule an appointment with LiceDoctors and we will dispatch an expert lice technician to your home. Our Tampa and St. Petersburg lice treatment service uses an all natural treatment that will leave you lice-free.
Hours of Operation:
Monday – Sunday : 4AM-11:30PM
Get Driving Directions
---
Head lice require a living host to survive, and they travel easily by crawling from one person's hair to another. Sharing a comb or brush is one of the most common ways that lice move from person to person. If you want an immediate solution, finding a local lice treatment clinic in your city may be your best option, but it can be costly.
Natural Head Lice Removal Using a Lice Comb
Lice treatment can be a stressful ordeal. However, most people overlook the most crucial step in the battle against head lice: combing them out. You will need a special lice comb for this, but you may be surprised to see how effective it is. The key is to repeat the process for 1 to 3 weeks since the initial combing will only get the adult lice and not all the eggs are known as nits will be removed completely. If you or your child has nits or lice, wash their scarves, hats, clothing, hair accessories, combs, etc. This will help prevent lice from spreading to other members of the household.
For those interested in natural remedies, there is a myriad of options.
How to Use Lice Removal Shampoo Treatments Kits
There are several types of lice shampoos you can buy over-the-counter. Your health care provider may have an idea of what is best for your children and which option is safest to use. Another great thing about lice shampoo is that they serve as a repellent that helps you avoid acquiring head lice all over again. After washing the hair with the lice shampoo and conditioner, you can start using the comb to remove the nymphs, eggs and adult lice. Therefore you will have to allow the nits to hatch first, and then a second application will be necessary.
Most hair lice removal shampoos contain chemicals designed to exterminate these bugs in its various developmental stages. Some children exhibit allergic reactions to them.
You can effectively repel the head lice using these products.
Many people deviate from the directions and fail to follow instructions.
When applied correctly, OTC treatments work fast. If you still see head lice after the first treatment, you may have missed a step or you may have to wait a little bit longer to allow the chemical some more time to take effect. Do not be tempted to over-apply and re-apply the chemical if you feel that it is not working.
Natural Head Lice Treatments with at Home Products
You can quickly go to a head lice treatment clinic in your area, but many people with small children would rather find a more natural way to get rid of lice. The removal process can be tough and time-consuming but not if you know how to do it properly.
Here are some steps you can follow for natural lice treatment:
Apply olive oil or almond oil on the hair. Make sure that the hair is dry while you do this; wet hair dilutes the product and makes it less effective. You do not have to follow the exact steps, and you may estimate how much product you will need. Also, apply some on the back of the neck and behind the ears.
This natural treatment method works well even if you do not apply the treatment in an organized fashion. It works by suffocating the lice living on the head. You may even find that the lice are trying to leave the head, be sure to capture them and wash them down the drain using very hot water.
How to locate a Head Lice Treatment Clinic in Tampa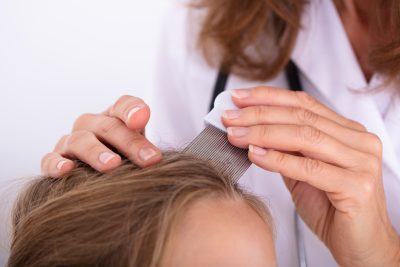 Head lice removal can be a long and daunting task, so for those who do not have the luxury of time, we recommend consulting a head lice treatment center in Tampa, FL.
Use search keywords like "head lice removal in Tampa" or "lice removal center near me" to find potential clinics. You may play around with other search terms to gather the best results.
The clinic you choose will advise you to wash all towels, linens, and bedding with hot water to prevent any further infestation. You will be required to clean all clothing, bedding, pillows, brushes, and other items that may already be contaminated by lice. Some treatment clinics offer discounts for those who have more than one person being treated, so keep that in mind. It is best to try using your lice comb and lice shampoo since you have more control of the situation as well as the cost.
Most centers charge around $150 to $300 per person, and they take up to one hour per treatment. They will get you results, but it comes at a higher price. Your health care provider may recommend over-the-counter medication that will kill adult lice but not recently laid eggs, which may call for a second or third treatment.
Be sure to wash all of your bedding, towels, pillows and other clothing worn in hot water. If you miss this step, you may find the lice returning.
---
Tampa Lice Removal
Number: (813) 525-8895
Address: 8270 Woodland Center Blvd, Tampa, FL 33614
Website: www.tampaliceremoval.com
Description: My staff and myself have all lived this nightmare in our own lives. So we are compassionate and sensitive to our customers needs. We have found
helping families out of this stressful situation to be very rewarding. Comforting and encouraging the children during the process is so important for both the kids and the parents. I never dreamed how much I could enjoy my work.
Hours of Operation:
Mon – Fri 8:30 AM – 4 PM
Sat – Sun: available house or studio only
---
Lice Care Solutions
Number: (813) 591-3340
Address: N/A
Website: www.licecaresolutions.com/tampa/
Description: Lice Care Solutions is a mobile lice treatment company that currently offers lice removal in Tampa. Our lice treatment technicians will travel up to 100 miles outside of city limits to treat you and your family for head lice, all in the comfort and privacy of your own home.
Hours of Operation:
This is a Mobile Lice Treatment business who will come to you.
---
Lice Away Today
Number: (813) 213-4470
Address: 4308 W El Prado Blvd, Tampa, FL 33629
Website: www.liceawaytoday.net
Description: All of our clinicians have been trained and certified to use our exclusive, FDA-cleared lice treatment medical device** (AirAllé). This revolutionary device kills lice and over 99% of lice eggs using heated air.
Hours of Operation:
---
So what else do you need to know about lice?
Having head lice is not a sign of having a dirty or unclean scalp. In most cases, head lice prefer clean heads. An infestation is a result of direct transfer from the hair of one person to another.
Can head lice jump? No, instead they crawl from one head to another. Lice can be very difficult to spot because they move quickly and they avoid light. You may opt to use lice shampoo kits for your entire family, as this will help save money rather than going to a local lice treatment clinic.
It's best to have a lice removal kit especially if you have kids who go to school. A lice removal kit can save you money and time. This is why some schools will close for a few days if there is a lice problem between students.